Log in
Log in to the Customer Experience site at any time for your support needs.

√
Simple one-time sign-up
√

Access FAQs, training documentation, and eLearning videos

√
Submit and review tickets
√
Subscribe to system notifications and release notes
√
View system availability (within the Technical tile)
Email us
Send an email to your Customer Experience team . Visit https://support-au.mediaocean.com/hc/en-au/articles/115013237668-Support-Contacts-and-Hours to view a full list of direct-to-team emails as well as our coverage hours of operation.
Track a ticket
After you chat with support, a ticket is created.
Ticket status
Open
The ticket is open and either with our CX staff, or pending with our product/development team.
Awaiting your reply
Mediaocean requires information or confirmation from the ticket requestor.
Fixed - pending RCA
Issue has been mitigated and a viable workaround has been provided. Mediaocean is actively working on Root Cause Analysis.
Solved
The ticket has been resolved.
Update ticket details
Enter additional information for your ticket, directly in the ticket, by accessing the ticket from the My activities section.
Copy additional people by adding their email address in the Add emails
Enter the additional details, and any attachments, and Submit



Resolution type definitions
Support resolution

Description

Recommendation/explanation

Action required (by client)
A change to the data within the platform was required by the end user.

Alternate workflow provided

Mediaocean Customer Experience provided an alternate workflow to mitigate the reported issue.
System functionality explained
Field or functionality defined by Mediaocean Customer Experience.

Record/Profile set up

New record (by client)

A new record or profile, typically managed by the client, must be added.

Record added/changed (by Mediaocean CX/Implementation)

A field or record that is only editable by Mediaocean was changed.

*May require data maintenance approval from client.

Record added/changed (by Account Management)

A field or data set configuration that is managed

by Mediaocean Account Management was changed.

*May require data maintenance approval from client.

Defect

Code fix

This indicates a deployment of new code to the Mediaocean platform to mitigate the reported issue.

Data fix/patch

This indicates a change or patch to existing data was executed by Mediaocean.
*May require data maintenance approval from client.

Redirect

Enhancement request (managed by Account Management)

Account Manager will reach out to end-user to discuss a functionality enhancement.

Other (managed by Account Management)

Account Manager will reach out to end-user regarding their request (e.g., report design, workflow exploration, etc)

Existing record change (managed by Client)

Records maintained on the client side (e.g., User security) must be changed to mitigate issue.

External system (managed by Third Party)

A change is required by an integrated Third Party system (e.g., Integrated Ad Server setting) to mitigate issue.

Technical

Reported issue was caused by a technical issue that impacted the Mediaocean platform.

Auto-solved

No response from user

User failed to respond to CX and the ticket was auto-solved.

Duplicate

The requester has opened multiple tickets on the same issue.
Professional services definitions

On-site support
Ticket to track onsite support session.
Configuration request
User's issue resolution required a configuration change or client requested a configuration change post-implementation. For use with Global plans only.
Training definitions

Training completed
Indicates the requested training was completed.
Training cancelled
Indicates the requested training was cancelled.
Utilized eLearning
User was directed to Mediaocean Learning centre for eLearning and training collateral.
Mediaocean education
Mediaocean education lets you access all of our learning resources. It's an easy way to access the content you need to make the most of your learning experience.
Articles
eLearning videos
Customized playlists
Release notes
CX documentation & FAQs
Click the appropriate product tile to view resources for each platform workflow.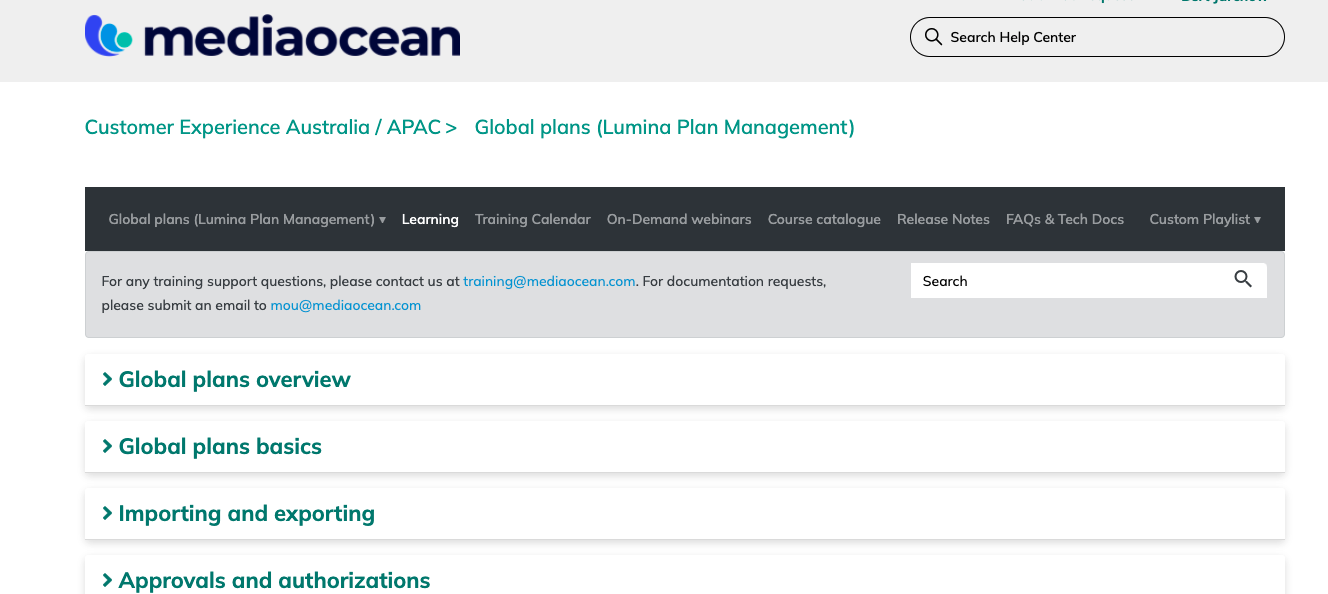 Follow a section
You can follow articles and sections to keep up-to-date with the latest information from Mediaocean Customer Experience.
Display and select your subscription options, by clicking the Follow button in the desired section.
Once submitted, you are notified of new articles in your subscribed sections.
To stop receiving updates for a given section, select Unfollow.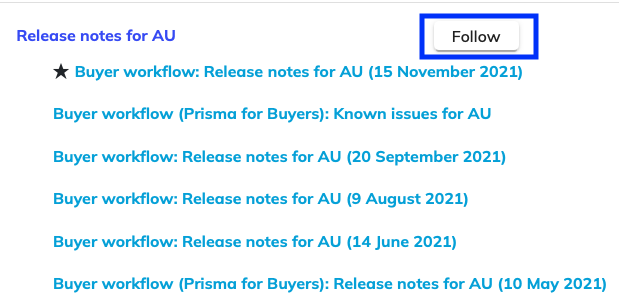 Have questions? Visit: https://support-au.mediaocean.com/